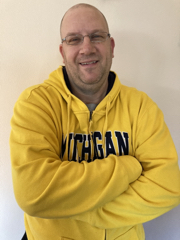 Mark Nowaczynski has over 20 years of experience serving Milwaukee County residents by helping them get the quality care they need. He previously worked in the MCFI LIFE Services department as a program technician and then eventually became the lead client coordinator case manager. Mark gained valuable experience working with developmentally disabled individuals in these previous roles.
Mark is a new addition to the First Person Care Consultants team. He holds a bachelor's degree in human services from Upper Iowa University.
When he isn't working, Mark enjoys spending time with his family, playing football, and watching his favorite comedy movies and TV shows.
Serving the following counties:
Milwaukee County
Mark can be reached at 414-238-5343 or via email at mark.nowaczynski@firstperson.org